Acoustic Rocks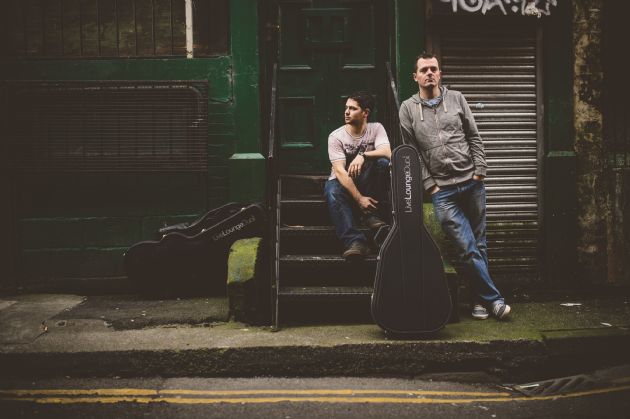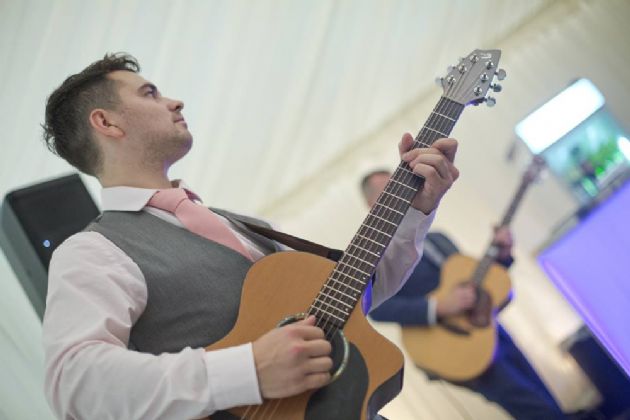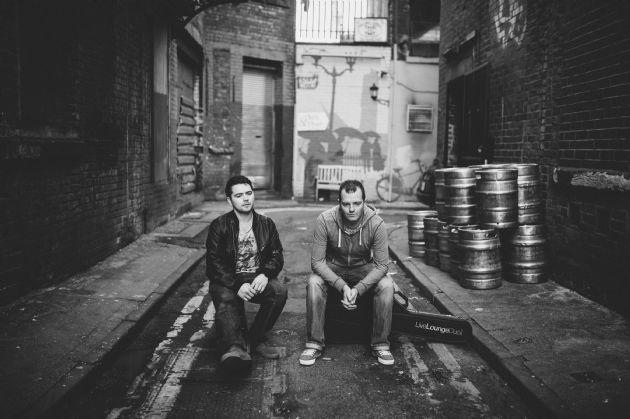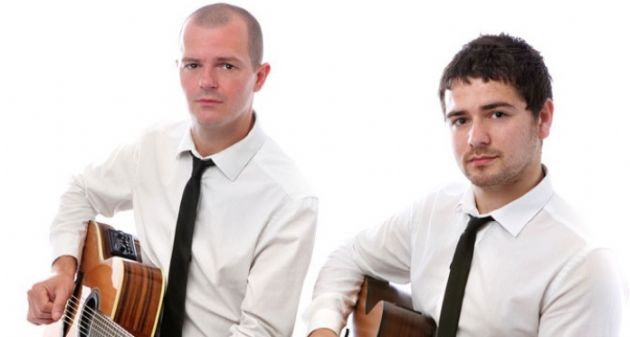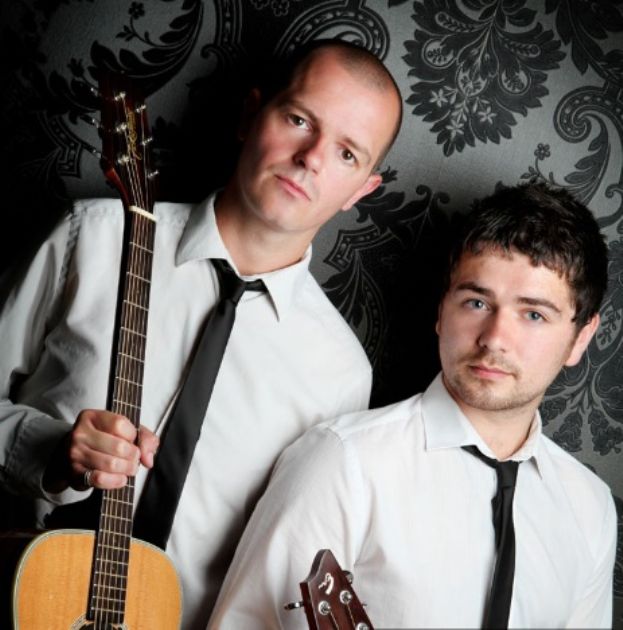 Acoustic Rocks
Superb Male Guitar/Vocal Acoustic Duo
Perfect for Weddings, Events & Parties
Highly Recommended
Full Public Liability and PAT Testing
Available UK Nationwide
Introducing Acoustic Rocks a Sensation Live Duo Ideal for Weddings, Corporate Events and Private Functions.

With their unique 'live lounge' style and versatility, they are gaining popularity and are fast becoming THE act to book for ANY event.

In their acoustic show, they cover a wide range of artists from Stevie Wonder and Jackson Five to The Killers and Kings Of Leon..... and many many more.

Acoustic Rocks can tailor their performances by changing the arrangements and dynamics of their set.

For example, they can be a live background atmospheric dining experience, or an up-tempo dance and sing-a-long evenings entertainment.

Acoustic Rocks are the 'must have' acoustic duo to hire. Contact us now for more information and to book!
ALL THE SMALL THINGS -BLINK 182
ALWAYS A WOMAN TO ME - FYFE DANGERFIELD
ALWAYS THE LAST NIGHT KNOW - DEL AMITRI
A TEAM - ED SHEERAN
BABYLON - DAVID GRAY
BE MINE -DAVID GRAY
BLACK AND GOLD - SAM SPARRO
BREAKFAST AT TIFFANY'S - DEEP BLUE SOMETHING
BROWN EYED GIRL -VAN MORRISON
CANNONBALL - DAMIEN RICE
CHASING CARS - SNOW PATROL
CHANGE THE WORLD - ERIC CLAPTON
COME UNDONE - ROBBIE WILLIAMS
CRAZY LITTLE THING CALLED LOVE - QUEEN
CREAM - PRINCE
CREEP -RADIOHEAD
DAKOTA - STEREOPHONICS
DANCING IN THE DARK - BRUCE SPRINGSTEEN
DONíT LOOK BACK IN ANGER - OASIS
DROPS OF JUPITER - TRAIN
EVERYTHING - MICHAEL BUBLE
EVERYTHING I OWN - BREAD
FAITH - GEORGE MICHAEL
FALL AT YOUR FEET - CROWDED HOUSE
FAST CAR - TRACY CHAPMAN
FOLLOW ME - UNCLE KRACKER
FOR THE FIRST TIME - THE SCRIPT
FORGET YOU - CEE LO GREEN
FREE FALLINí - TOM PETTY/JOHN MAYER
FRIDAY IíM IN LOVE - THE CURE
GALWAY GIRL - VARIOUS
GANGSTER'S PARADISE - COOLIO
GOOD ENOUGH - DODGY
GOOD LOVE IS ON THE WAY - JOHN MAYER
GO YOUR OWN WAY - FLEETWOOD MAC
HALF THE WORLD AWAY - OASIS
HALLELUJAH - VARIOUS
HARD TO HANDLE - THE BLACK CROWES
HEAVEN - BRYAN ADAMS
HIGH AND DRY - RADIOHEAD
HOME - MICHAEL BUBLE
HURTS LIKE HEAVEN - COLDPLAY
HUMAN - THE KILLERS
I DONíT TRUST MYSELF - JOHN MAYER
I FEEL FINE - THE BEATLES
I MISS YOU - BLINK 182
I WANT YOU BACK - JACKSON 5
I WISH - STEVIE WONDER
I'LL BE THERE FOR YOU - THE REMBRANDTS
IíM A BELIEVER - THE MONKEES
IíM YOUR MAN - WHAM
IS THAT LOVE - SQUEEZE
IT MUST BE LOVE - MADNESS
JOHNNY B GOODE - CHUCK BERRY
KEEP ON MOVINí - FIVE
KISS THIS THING GOODBYE - DEL AMITRI
KNOCKING ON HEAVENS DOOR -BOB DYLAN/GUNS & ROSES
LAID - JAMES
LAY YOUR LOVE ON ME - ROACHFORD
LAZY SONG - BRUNO MARS
LUCKY MAN - THE VERVE
LYLA - OASIS
MAGGIE MAY - ROD STEWART
MAN IN THE MIRROR - MICHAEL JACKSON
MARRY ME - TRAIN
MIDNIGHT HOUR - WILSON PICKET
MR BRIGHTSIDE - THE KILLERS
MUSTANG SALLY - VARIOUS
MY GIRL - VARIOUS
NEED YOU NOW - LADY ANTEBELLUM
NOTHING COMPARES - SINEAD O CONNOR
NOTHING EVER HAPPENS - DEL AMITRI
ONE DAY LIKE THIS - ELBOW
OVER MY HEAD - THE FRAY
PERFECTLY LONELY - JOHN MAYER
PLAY THAT FUNKY MUSIC - WILD CHERRY
POOR MISGUIDED FOOL - STARSAILOR
ROCKS - PRIMAL SCREAM
ROMEO AND JULIET - DIRE STRAITS
ROUND ARE WAY - OASIS
SALLY CINNAMON - THE STONE ROSES
SAME JEANS - THE VIEW
SAVE TONIGHT - EAGLE EYE CHERRY
SAY - JOHN MAYER
SAY SOMETHING - JAMES
SEX ON FIRE - KINGS OF LEON
SHAPE OF MY HEART - STING
SHE BANGS THE DRUMS - THE STONE ROSES
SHE WILL BE LOVED - MAROON 5
SHEíS ELECTRIC - OASIS
SHINE - TAKE THAT
SIT DOWN - JAMES
SOMEBODY ELSEíS GUY - JOCELYN BROWN
SOMEWHERE IN MY HEART - AZTEC CAMERA
STUCK IN THE MIDDLE - STEELERS WHEEL
SUMMER OF 69 - BRYAN ADAMS
SUPERSONIC - OASIS
SUPERSTITION - STEVIE WONDER
SWEET HOME ALABAMA - LYNARD SKYNARD
TAINTED LOVE - SOFT CELL
TALK TONIGHT - OASIS
TEARDROPS - WOMAK AND WOMAK
TEENAGE DIRTBAG - WHEATUS
TEENAGE DREAM - KATY PERRY
TEMPTED - SQUEEZE
THATíS ENTERTAINMENT - THE JAM
THE DEATH OF YOU AND ME - OASIS
THE IMPORTANCE OF BEIN IDLE - OASIS
THE JOKER - STEVE MILLER BAND
THE SCIENTIST - COLDPLAY
TIME AFTER TIME - CYNDI LAUPER
TIMES LIKE THESE -FOO FIGHTERS
TO THE ONE I LOVE - DAVID GRAY
TWIST AND SHOUT - THE BEATLES
UP THE JUNCTION -SQUEEZE
WAITING FOR THE RAPTURE - OASIS
WALKING IN MEMPHIS - MARC COHN
WEATHER WITH YOU - CROWDED HOUSE
WHATEVER- OASIS
WISH YOU WERE HERE- PINK FLOYD
WITH OR WITHOUT YOU- U2
WONDERWALL- OASIS
YELLOW- COLDPLAY
YOU DO SOMETHING TO ME- PAUL WELLER
YOU GOT THE LOVE- CANDI STATON
YOUR ALL THAT I HAVE- SNOW PATROL
YOUR BODY IS A WONDERLAND -JOHN MAYER
Travel
UK Nationwide | Europe | Worldwide
Weddings
Hotels
Restaurants
Corporate Events
Private Parties
Many More!
Reviews of Acoustic Rocks
Mr & Mrs Hall - Britannia Hotel, Manchester - April

Just a note to say a massive thank you for playing at our wedding. Everyone has said how much they enjoyed it and My Garry was absolutely blown away with the Manchester music set you did for us , IT WAS BRILLIANT thank you so much.

---

Mr & Mrs Williams - Brookfields Saddlery, Shareshill - July

Fantastic Duo! These guys were great and our guests thought so too. From the moment we booked them nothing was too much trouble. They were happy to learn special songs for us, take requests and they even composed a version of ĎCanít Help Falling in Loveí for our bridesmaids to walk down the isle to. They fitted in with us and were easy going and flexible whilst being very organised and prompt. They bounce off each other with fabulous voices and great stage presence and wowed our guests with their musical talents. If you want a great day, with no stress and excellent music we would highly recommend these guys.

---

Mr & Mrs Owen - Village Hotel, Ashton Under-Lyne - August

We just wanted to say a huge thank you to both of you for helping to make our day so special. Your enthusiasm for music and brilliant ideas really helped to make things easy for us and took the stress and worry away. We were also so impressed and grateful for the track you learnt especially for us. It was wonderful and brought a tear to our eyes! So thank you both again.....and we'll see you at one of your local gigs soon!

---

Mr & Mrs Murphy - Joshua Bradley, Gee Cross August

Just wanted to say a HUGE thank-you for playing at our wedding reception. You were both amazing,nothing was too much trouble and all our guests loved you! In fact some guests were asking for your details and they wanted to book you too! We were planning on having the acoustic set then later on in the night having chart music to dance to but everyone was having such a good time singing along and dancing to you guys that you kindly agreed to keep playing until the end of the night for us I would highly recommend anyone thinking of booking Danny and Gary to go ahead as you wont be disappointing. So thanks again and will hopefully see you at the Ring o bells soon

---

Mr & Mrs Goddard - Mere Golf Club, Knutsford - October

Thanks so much for performing at our wedding it was the most amazing day EVER....You blew our guests away! I have never seen so many people up and dancing and just generally soaking up the awesome atmosphere. You guys gave such a unique and perfect touch to our special day which we will treasure in our hearts forever. We would highly recommend that anybody organising a wedding take the stress out straight away and have you perform and make their day as special as ours

---

Mr & Mrs Terry - The Swan Inn, Dob Cross - November

Thank you so much for making our wedding special. Nothing was too much trouble and everyone was so impressed that a number of people have asked for your details. Not only are you regular nice guys but you had a really good range of music and involved everyone at the party. Some people who I had never seen dancing were up and grooving! Thanks again and good luck.

---
Make Enquiry for Acoustic Rocks Now!