Sophisticated Swing Orchestra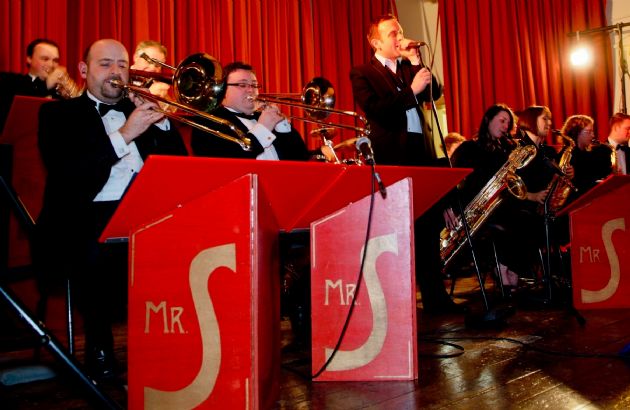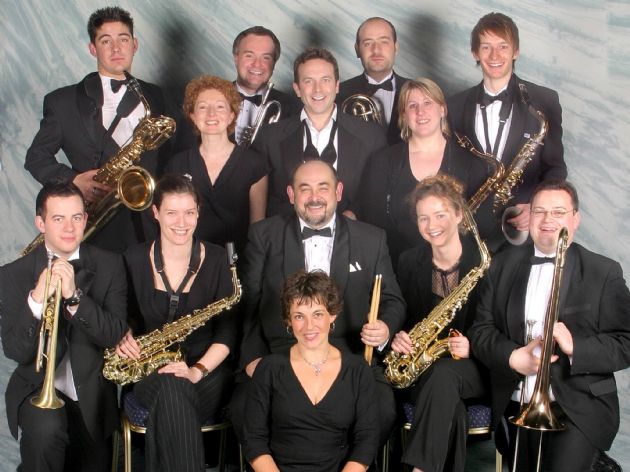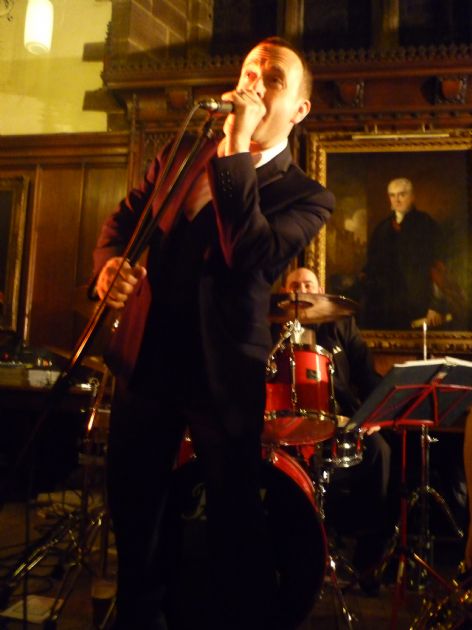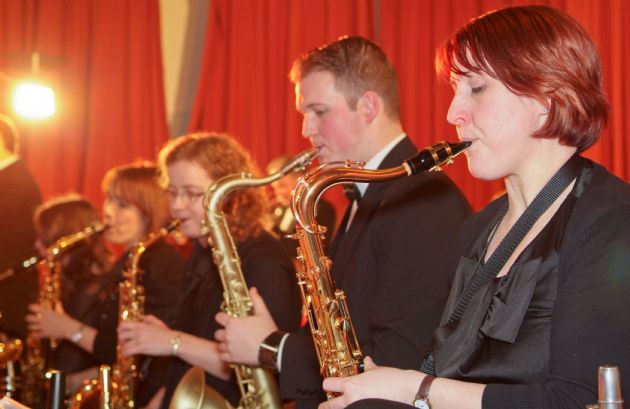 Sophisticated Swing Orchestra
13 Piece Swing Big Band
Full 13 Piece Orchestra with Male Lead Swing Singer
Experienced and Talented Performers
30's, 40's, 50's, Swing & Rat Pack Themes
Fantastic for Weddings, Functions and Events
Highly Recommended
Available UK Nationwide
Sophisticated Swing Orchestra are an Excellent 13-piece big band Perfect for Theatres, Weddings, Parties, Corporate Events, Functions or Theme Nights.

Comprising male vocalist, four brass, five sax players and three in the rhythm section. Sophisticated Swing Orchestra are very versatile; they can perform a mix of styles for a party audience, a ballroom dance or theme their repertoire for a wartime event.

Sophisticated Swing Orchestra performs classic songs from the radio broadcasts of the thirties, through
the Glenn Miller sound of the forties to the Rat-pack days of the fifties and beyond. Well-known songs made famous by Frank Sinatra, Dean Martin, Nat King Cole, Bobby Darin, Andy Williams, Tom Jones and Neil Diamond and more recently revived by Harry Connick Jnr, Robbie Williams and Michael Bublť.

Sophisticated Swing Orchestra have played to audiences the length and breadth of the country. All over Yorkshire, the North East, the North West, Leeds, Manchester and London, Sophisticated Swing Orchestra encourages young and old to get up and dance. With over a hundred songs on the playlist, thereís guaranteed to be something for everyone.

To Hire the Sophisticated Swing Orchestra for your next Event, please contact us now for more information or to Book!
A Nightingale Sang In Berkeley Square
A String Of Pearls
Adios
Ainít Nobody Here But Us Chickens
Ainít That A Kick In The Head
All I Want For Christmas Is You
Almost Like Being In Love
Amarillo
American Patrol
Around The World
At Last (instrumental)
Auld Lang Syne
Bad Bad Leroy Brown
Beyond The Sea
Canít Take My Eyes Off You
Charleston
Charmaine
Cheek To Cheek
Chicago
Christmas Song (Chestnuts RoastingÖ)
Cinderella (Stay In My Arms)
Come Fly With Me
Copacabana
Day In Day Out
Delilah
Do Nothing ĎTil You Hear From Me
Donít Cry For Me Argentina
Donít Get Around Much Anymore
Donít Rain On My Parade
Donít Sit Under The Apple Tree
Everything
Feelings
Fly Me To The Moon
For Once In My Life
Frosty The Snowman
Goodnight Sweetheart
Happy Feet
Have You Met Miss Jones?
Have Yourself A Merry Little Christmas
Hawaii Five-0
Hello Dolly
Help Yourself
How High The Moon
I Get A Kick Out Of You
I Just Havenít Met You Yet
I Wonít Dance
Iím Gonna Lock My Heart (And Throw Away The Key)
Iíve Got My Love To Keep Me Warm
Iíve Got You Under My Skin
In The Mood
It Donít Mean A Thing (If It Ainít Got That Swing)
It Had To Be You
It Had Better Be Tonight
It Happened In Monterey
Itís All Right With Me
Itís Not Unusual
Itís The Most Wonderful Time Of The Year
Jealousy
Just The Way You Are
Keep Young And Beautiful
King Of The Swingers
La Cumparsita
Let It Snow! Let It Snow! Let It Snow!
Let There Be Love
Letís Face The Music And Dance
Little Brown Jug
Liviní La Vida Loca
Love Is The Sweetest Thing
Love Me Tonight
Mack The Knife
Mambo Italiano
Moonlight Serenade
Mr Bojangles
My Blue Heaven
National Anthem
New York New York
Nice And Easy
Night And Day
Opus One
Papa Loves Mambo
Paper Moon
Pennies From Heaven
Pennsylvania 6-5000
Perhaps Perhaps Perhaps
Puttiní On The Ritz
Recipe For Love
Santa Claus Is Cominí To Town
Save The Last Dance For Me
Secret Love
Sex Bomb
Sing Sing Sing
Sleigh Ride
Somethingís Gotta Give
Song Of India
St. Bernard Waltz
Star Dust
Straighten Up And Fly Right
Strangers In The Night
Sway
Sweet Caroline
Síwonderful
That Old Black Magic
Thatís Amorť
Thatís Life
The Gay Gordons
The Lady Is A Tramp
The Snake
The Way You Look Tonight (I)
The Way You Look Tonight (V)
They Canít Take That Away From Me
Things
Tiger Rag
Tuxedo Junction
Unforgettable
Venus
Viennese Waltz Medley
We Have All The Time In The World
When I Fall In Love
Where Or When
White Christmas
Wonderful One
Woodchoppersí Ball
You Make Me Feel So Young
Travel
UK Nationwide | Europe | Worldwide
Buckingham Palace for The Princeís Trust Royal Charter Award Ceremony
BMW
The Air Crew Association
Leeds United FC
Elior
ITE Moda
Countless Weddings
And More!
Reviews of Sophisticated Swing Orchestra
Michael and Katie hired Sophisticated Swing Orchestra for their Wedding in Yorkshire Wedding Barn

Everybody loved the band and I've heard a few music lovers say it was the best swing band they have ever seen. Sophisticated Swing Orchestra have made an ever lasting impression with everyone. The intro was fantastic and definitely started the evening off with a bang. We thank Sophisticated Swing Orchestra for our first dance it was more perfect than we could have imagined. I can not express our appreciation enough to them. They made the evening a brilliant success and are true professionals.

---

Ellen Boyle hired Sophisticated Swing Orchestra for a Remembrance Day concert in Bradford

It's always a pleasure to see and hear Sophisticated Swing Orchestra. A truly great orchestra and our customers can't wait for the next one.

---

Sophie and Ben Hired Sophisticated Swing Orchestra for their wedding at Rowley Manor, East Yorkshire

Just wanted to say a huuuuge thank you to all of you at Sophisticated Swing Orchestra. You made the wedding evening truly amazing and absolutely eeeveryone loved you guys! So many people have said to us since the wedding how amazing you guys were! Thank you so so much, we had an absolutely fab time, Iím so glad you could play for us! I think youíve heard from my sister-in-law Faye and I hear youíll be playing at her and Carlís wedding next year! Yay. So we will see you all again then :) Thanks again.

---

Roisin and Steve hired Sophisticated Swing Orchestra for their Wedding at Holmes Chapel, Cheshire

Sophisticated Swing Orchestra made our wedding! We thought our special day couldn't get any better after we exchanged our vows and heard the kind words from our family but, as soon as we heard the music, I knew that the band would leave an impact on our guests. I did not stop dancing all night! We truly enjoyed every moment of the band's set and all our guests have commented on how wonderful they were. Really wish we could have had them longer. I want to say a heartfelt thank you to Matthew and the rest of the band for making our wedding magical.

---
Make Enquiry for Sophisticated Swing Orchestra Now!