Jem Harpist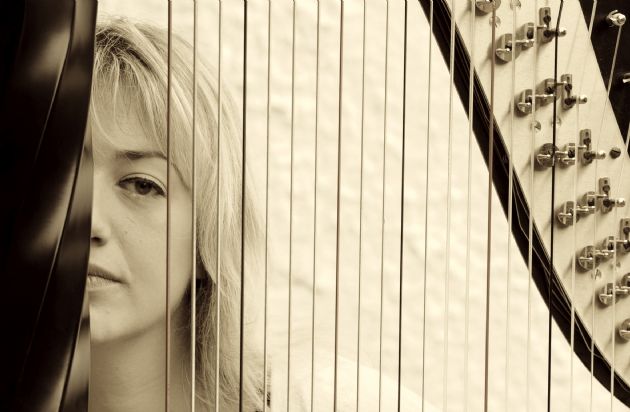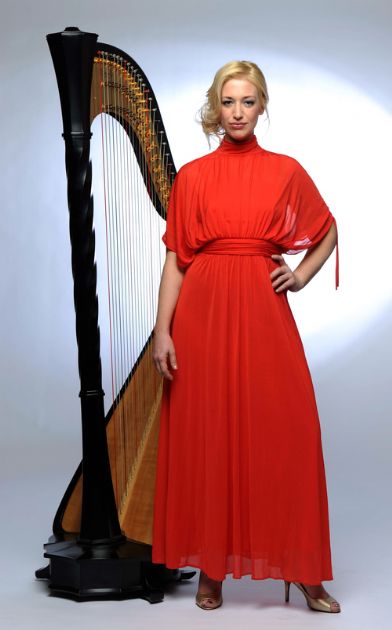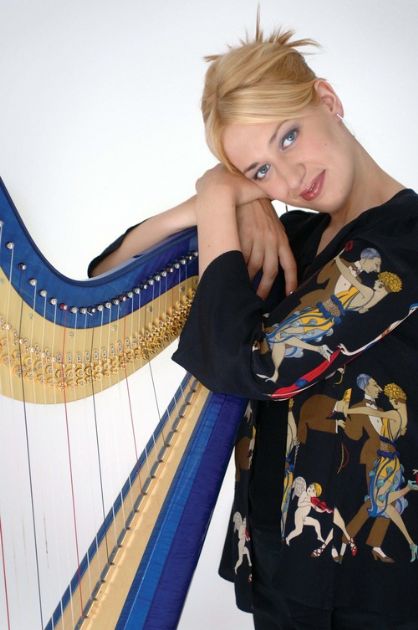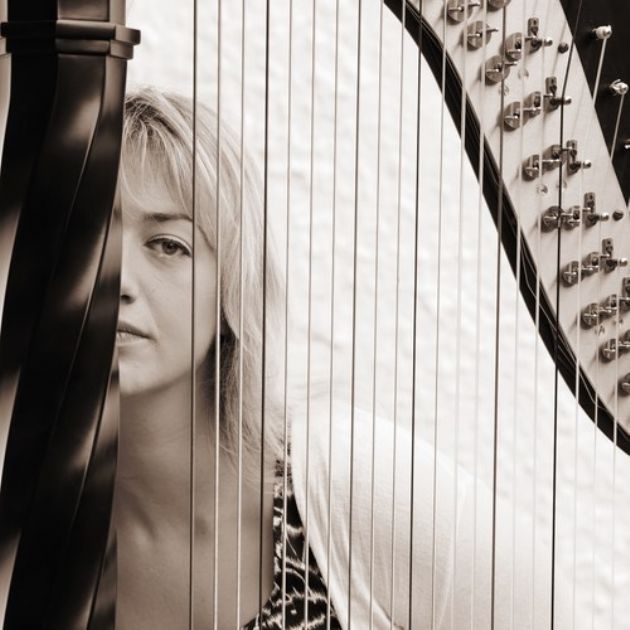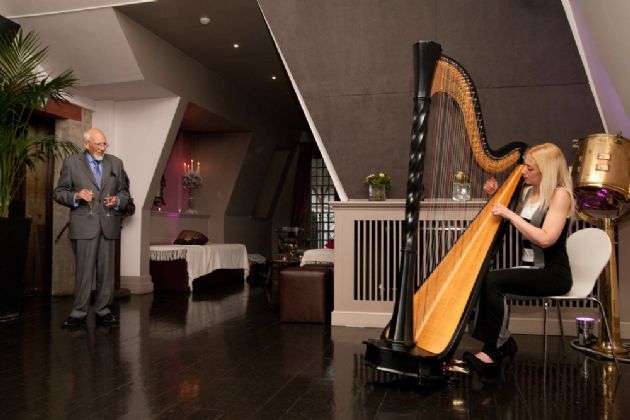 Jem Harpist
Superb Female Harpist
Perfect for Weddings, Parties & Events
Highly Recommened
Award winning & Talented Musician
Appointed official harpist to HRH The Prince of Wales in 2004 for 3 years
Played at HRH The Prince of Wales' Wedding
Available UK Nationwide
One of the UK's Finest Female Harpists, equally at home on Acoustic or Electric Harp with an amazing repertoire of music from the classics to modern pop.

Winner of many awards and accolades, with an impressive list of qualifications, Jem is one of the outstanding harpists of her generation. An exciting, versatile and innovative performer she is in great demand because of her creativity, musicianship, unique style and friendly personality.

Jem graduated from the Royal College of Music with a BMus(Hons), an MMus(RCM) and by the age of nineteen had gained Fellowships of Trinity College London and the Royal Schools of Music. She has performed extensively throughout the UK and has been featured on TV by BBC, GMTV, ITV and S4C Wales. Internationally she has played in Japan, France, Russia, Switzerland, Spain and the U.S.A.

Appointed official harpist to HRH The Prince of Wales in 2004, her three year tenure ensured several memorable highlights, including performing at his wedding to the Duchess of Cornwall, playing at the reception hosted by Her Majesty the Queen for the 2012 Olympic Bid, featuring in the first public concert recorded by Classic FM which was broadcast following the Queen's Speech on Christmas Day and premiering the Salvi 'Royal' harp at the Llangollen International Festival.

Jem has played for all members of the Royal Family including the wedding of Princess Anne's son Peter Phillips. She has appeared at Balmoral Castle, Buckingham Palace, Clarence House, Frogmore House, Highgrove, Kensington Palace, the Guildhall, St James Palace, Windsor Castle, the House of Commons and the House of Lords.
All of Me - John Legend
All You Need is Love - The Beatles
Angels - Robbie Williams
Annie's Song - John Denver
Are We Human - The Killers
A Thousand Years - Christina Perri
Ave Maria - Beyonce
A Whiter Shade of Pale - Procol Harem
Bang Bang (He Shot Me Down) - Nancy Sinatra
Bankrobber - The Clash
Beautiful - Christina Aguilera
Better Together - Jack Johnson
Bittersweet Symphony - The Verve
Bridge Over Troubled Water - Simon and Garfunkel
Chandelier - Sia
Chasing Cars - Snow Patrol
Clocks - Coldplay
Come Away With Me - Norah Jones
Dry Your Eyes - The Streets
Endless Love - Lionel Ritchie
Enjoy the Silence - Depeche Mode
Every Breath You Take - The Police
Everything - Michael Buble
Everything I Do - Bryan Adams
Fade to Black - Metallica
Fallin' - Alicia Keys
Fields of Gold - Sting
Final Countdown - Europe
F**ckin' Perfect - Pink
Get Lucky - Daft Punk
Halo - Beyonce
Have I Told You Lately - Van Morrison
Heartbeats - Jose Gonzalez
Here Comes the Sun - George Harrison
House of the Rising Sun - The Animals
How Long Will I Love You - Ellie Goulding
Hurt - Johnny Cash
Imagine - John Lennon
I'm Yours - Jason Mraz
I Don't Want to Miss a Thing - Aerosmith
I Shot the Sheriff - Bob Marley
I Won't Give up on Us - Jason Mraz
Just Give Me a Reason - Pink and Nate Ruess
Just the Two of Us - Will Smith
Just the Way You Are - Bruno Mars
Killing Me Softly - The Fugees
Kiss from a Rose - Seal
Kissing You - Desree
Let Her Go - Passenger
Let it Be - The Beatles
Livin' on a Prayer - Bon Jovi
Love Me Tender - Elvis Presley
Marry You - Bruno Mars
Nightcall - London Grammar/Kavinsky
Nothing Else Matters - Metallica
Painted on Your Skin - The Cult
Paint it Black - The Rolling Stones
Paparazzi - Lady Gaga
Pompeii - Bastille
Running up that Hill - Kate Bush
Sitting on the Dock of a Bay - Otis Redding
Skyfall - Adele
Smells Like Teen Spirit - Nirvana
Someone Like You - Adele
Somewhere Only We Know - Keane/Lily Allen
Songbird - Eva Cassidy
Stand By Me - Ben E. King
Stay With Me - Sam Smith
Summer of '69 - Bryan Adams
Summertime Sadness - Lana del Ray
Sweet Child of Mine - Guns N Roses
Sweet Dreams are Made of These - Eurythmics
Teardrop - Massive Attack
The A Team - Ed Sheeran
The Cave - Mumford and Sons
Thinking Out Loud - Ed Sheeran
Time - Tom Waits
Time after Time - Cyndi Lauper
Titanium - David Guetta & Sia
Use Somebody - Kings of Leon
Video Games - Lana del Ray
Wake Me Up - Aviici
Waterloo Sunset - The Kinks
With or Without You - U2
Wonderful Tonight - Eric Clapton
Wonderwall - Oasis
Words - The Bee Gees
Yesterday - The Beatles
Your Song - Elton John
You've Got the Love - Florence and the Machine
Zombie - The Cranberries
Classical Selection:
Air from Water Music - Handel
Air on a G String - J. S. Bach
Arioso - J. S. Bach
Arrival of the Queen of Sheba - Handel
Ave Maria - Gounod
Ave Maria - Schubert
Barcarolle - Offenbach
Bridal Chorus - Wagner
Canon in D - Pachelbel
Clair de Lune - Debussy
Eine Kleine Nachtmusik - Mozart
Evening Prayer - Humperdinck
Flower Duet - Delibes
Für Elise - Beethoven
Gabriel's Oboe - Mascagni
Girl with the Flaxen Hair - Debussy
Gymnopédie No. 1 - Satie
Jesu Joy of Man's Desiring - J. S. Bach
I Mio Babbino Caro - Puccini
In the Hall of the Mountain King - Grieg
Intermezzo from Cavalleria Rusticana - Mascagni
Larghetto - Handel
Liebesträum - Liszt
Meditation from Thäis - Massanet
Minuet in G - Beethoven
Moonlight Sonata (1st mvt) - Beethoven
Morning from Peer Gynt - Grieg
Nimrod from Enigma Variations - Elgar
Nutcracker Selection - Tchaikovsky
O Perfect Love - Barnby
O Sole Mio
Ode to Joy - Beethoven
Panis Angelicus - Franck
Passacaille - Handel
Pathetique Sonata (2nd mvt) - Beethoven
Pavane - Fauré
Pié Jesu - Llyod Webber
Prelude in C - J. S. Bach
Rondo Alla Turca - Mozart
Salut d'amour - Elgar
Spanish Dance No. 1 - de Falla
Symphony No. 5 (1st mvt) - Beethoven
Theme from Finlandia - Sibelius
Theme from Palladio - Jenkins
The Swan - Saint Saëns
To a Wild Rose - Macdowell
Toccata and Fugue - J. S. Bach
Träumerei - Schumann
Trumpet Voluntary (Prince of Denmark's March) - Clarke
Trumpet Tune - Purcell
Wedding March - Mendelssohn
Film and TV
Aladdin - A Whole New World
American Beauty - American Beauty, Angela Undress
An American in Paris - An American in Paris, Rhapsody in Blue, Love Is Here To Stay, 'S Wonderful
A Summer Place - Theme
Beauty and the Beast - Tale as Old as Time
Braveheart - For the Love of a Princess
Bond - Selection
Breakfast at Tiffany's - Moon River
Butch Cassidy and the Sundance Kid - Raindrops Keep Fallin' On My Head
Deer Hunter - Cavatina
Dirty Dancing - I Had the Time of My Life, She's Like the Wind
Four Weddings and a Funeral - Love is all Around
Game of Thrones - Theme
Ghost - Unchained Melody
Gladiator - Honour Him, Now We Are Free
Gonna Fly Now - Rocky
Great Balls of Fire - Great Balls of Fire
Let it Go - Frozen
Lord of the Rings - In Dreams
Pure Imagination - Charlie and the Chocolate Factory
Robin Hood: Prince of Thieves - Everything I Do, Marian at the Waterfall
Romeo and Juliet (Baz Luhrmann) - Balcony Scene
Romeo and Juliet (Franco Zefferelli) - Love Theme
Schindler's List - Theme
Shall We Dance - Let's Call The Whole Thing Off
Singin' In The Rain - Singin' In The Rain
Star Wars - Cantina Band, Return of the Jedi, Princess Leia's Theme
The Bodyguard - I Will Always Love You
The Departed - I'm Shipping up to Boston
The Godfather - Love Theme
The Last Samurai - Complete Soundtrack
The Lion King - Can You Feel the Love Tonight
The Piano - The Heart Asks Pleasure First
The Rose - The Rose
The Truman Show - Truman Sleeps
Titanic - My Heart Will Go On
Top Gun - Take My Breath Away
Twilight - Bella's Lullaby, River Flows In You
Musicals:
A Little Night Music - Send in the Clowns
Cats - Memory
Calamity Jane - Secret Love
Carousel - You'll Never Walk Alone
Evita - Don't Cry for me Argentina
Girl Crazy - Bidin' My Time, But Not For Me, Embraceable You, I Got Rhythm
Jesus Christ Superstar - I Don't Know How to Love Him
Les Misérables - Castle on a Cloud, I Had a Dream
Oh Kay - Do, Do, Do, Someone To Watch Over Me
Oklahoma - Oh, What A Beautiful Mornin', Surrey With The Fringe On Top
Seven Brides for Seven Brothers - Selection
South Pacific - Some Enchanted Evening, A Wonderful Guy
Strike Up The Band - I've Got A Crush On You
Tell Me On A Sunday - Tell Me On A Sunday
The King and I - Getting to Know You, Hello Young Lovers
The Phantom of the Opera - All I ask of You, The Music of the Night
The Sound of Music - The Sound of Music, Edelweiss, My Favorite Things
The Wizard of Oz - Over the Rainbow
Contemporary:
Aphex Twin - Avril 14th
Arrival of the Birds - Cinematic Orchestra
Arvo Pärt - Für Alina
Balmorhea - Theme No.1, Baleen Morning, Lament
Einaudi - I Giorni, Le Onde, Nuvole Bianche, Primavera
Olafur Arnalds - Tomorrow's Song, Ljosio
Philip Glass - Glassworks, Metamorphoses
The Flashbulb (Benn Jordan) - Tomorrow Untrodden
Yanni - Reflections of Passion
Yann Tiersen - Comptine d`un autre ete - l`apres-midi
Standards/Jazz:
Ain't Misbehavin'
Come Fly With Me
Fascinating Rhythm
Fly Me to the Moon
I Get a Kick Out of You
It's a Raggy Waltz
I've Got You Under my Skin
Love and Marriage
Mack the Knife
My Baby Just Cares for Me
My Way
New New, New York
Night and Day
Satin Doll
Smile
Summertime
Take Five
The Entertainer
What a Wonderful World
You Do Something to Me
Bollywood:
A selection of wedding and film favorites.
Traditional:
A selection of well known folk tunes from England, Ireland, Scotland, Wales and America.
Seasonal & Sing-a-long:
Christmas Songs, Carols and a selection of Music Hall, Pub and World War 2 favorites.
Travel
UK Nationwide | Europe | Worldwide
Official Harpist to HRH The Price of Wales (2004-2007)
All members of the Royal Family including The Queen
House of Commons
House of Lords
National Trust
English Heritage
BBC
ITV
S4C Wales
BMW
Estee Lauder
Olympic Committee 2012
Weddings
Private Parties
and many many more
Make Enquiry for Jem Harpist Now!