Rhythm of the Nite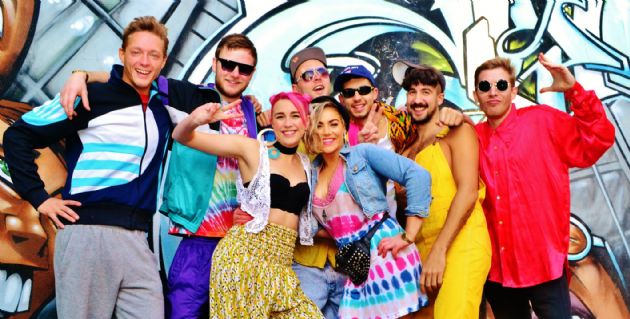 Rhythm of the Nite
Excellent 90s Tribute Band
Highly Recommended
Viewed & Approved
UK Nationwide
Rhythm of the night are a fantastic tribute band bringing the hazy days of 90s Dance Music right back to life.

Recreated with incredible authenticity - and fully live featuring female vocals, drums, trancy synths and all of the colour, flair and energy you'd expect of a 1990s performer.

With a repertoire of instantly recognisable sing along floor fillers - they are a real party starter.

Fantastic entertainment for all those wanting to relive one of the whackiest decades of recent times, made all the more better by live musicianship, vocals, and energetic dancing.

An ideal choice for any live music venue, theme night, wedding, or party requiring bags of life and energy.
Set 1
1. Get Ready For This – 2 Unlimited*
2. Dreamer – Livin Joy
3. Red Alert What Is Love – Basement Jaxx
4. King of My Castle/Around The World – W. Project/Daft Punk
5. What Is Love - Hadaway
6. Baby Baby - Corona
7. Finally – Ce Ce Peniston*
8. The Power – Snap!*
9. Aint No Love Aint No Use – Sub Sub
10.Freed From Desire - Gala
11.Let Me Be Your Fantasy – Baby Dee*
12. Horny – Mousse T
13.Mr. Vain – Culture Beat*
14.Rhythm Is A Dancer – Snap!*
15.Boom Boom Boom/I Like To Move It*– Out Here Bros/Reel 2 Real
Set 2
1. Everybody Dance Now – C & C Music Factory*
2. Groove Is In The Heart – Dee Lite*
3. Rhythm Of The Night - Corona
4. No Limits – 2 Unlimited*
5. On a Ragga Tip – SL2*
6. Show Me Love – Robin S
7. Don't Stop Moving – Livin Joy
8. Everybody's Free – Rozalla
9. You Sure Do - Strike
10.Ride On Time – Black Box*
11. Insomnia - Faithless
12.Outta Space/Smack My B*tch Up/No Good – Prodigy
13.Set You Free – N Trance
14.Children – Robert Miles*
Travel
UK, Mainland Europe and Worldwide
Live Music Venues
Corporate Events
Weddings
Hotels
Holiday Parks and Leisure Resorts
Private Parties
Festivals
and much more
Reviews of Rhythm of the Nite
Tony booked Rhythm of the Nite for his Summer Fete at the Stone Recreation Ground

Hi Toby I just wanted to let you know that we have had loads of compliments on how you were the best act of the day at the summer Fete and we have had requests for you to play at next year's fete as well. Many thanks Tony

---
Make Enquiry for Rhythm of the Nite Now!