Nigel - Close Up Magician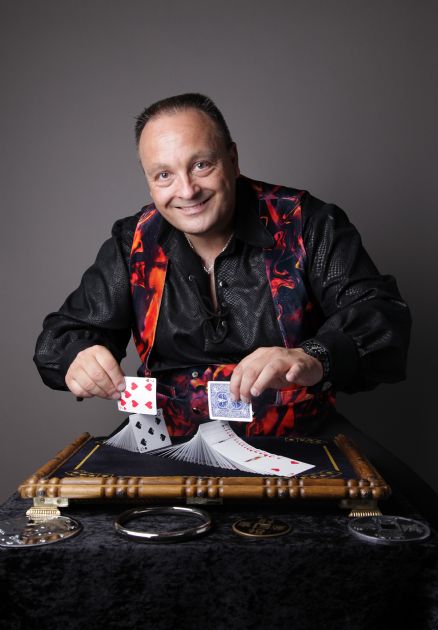 Nigel - Close Up Magician
Fantastic Close up Magician
Highly Recommended
Viewed & Approved
UK Nationwide
Nigel has delighted audiences across the UK and Worldwide for over 20 years with his blend of genuine charm and pick your jaw off the floor impossibilities. He has taken magic to new heights by striving to be unique as well as entertaining. He has a different perspective of what magic is and how to create the sense of wonder to his audience. Nigel prefers to use advanced methods of sleight of hand rather than gaffs or gimmicks.

Nigel is employed as a magician for many different types events and celebrations for both corporate and private clients during the day and in the evening. He performs extreme Close Up Magic in a mix and mingle and table hopping format. Nigel's props are small and self contained, so he can stroll around any event and perform anywhere, anytime, and under any situation. He can help you and your guests celebrate in style where ever you are.

Nigel is often booked for events in hotels, restaurants and wine bars. He will entertain your guests as they arrive and will go from table to table in-between courses making everything run smoothly.

So if you are planning a celebration, a party or you even need to attract people to an exhibition stand Nigel will draw attention in a unique and effective way. His magic is both spectacular and entertaining.
Travel
UK Nationwide & Worldwide
Orient Express
BP
HSBC
Royal Bank of Scotland
Kings College Cambridge
Cooperative Bank
Siemens
Royal Institute of Chartered Surveyors
Emley Moor Broadcasting
British Insurance Brokers Association
MAI International
Event Crowd
British Army
Royal Navy
RAF
Marks & Spencer
John Lewis
Tesco
Asda
Jaguar
Mercedes Benz
BMW
Toyota
Volvo
Ventura
Vodafone
Marriott Hotels
Hilton Hotels
Cedar Court Hotels
Raddisson Hotels
Best Western Hotels
Holiday Inn
Cafe De Paris
Hard Rock Cafe
The Brit Awards After Party
and appeared on
Restaurant in Our Living Room
Reviews of Nigel - Close Up Magician
Make Enquiry for Nigel - Close Up Magician Now!